Manajemen Program Pembiasaan Membaca Al-Quran Di SMA Muhammadiyah 18 Sunggal
Abstract
Education is a conscious, planned effort to create a learning atmosphere and learning process, so that students actively develop their potential to have religious spiritual strength, self-control, personality, intelligence, noble character, and skills needed by themselves, society, nation and state. Management is an art or principle related to organizing, such as planning, building organization and organizing, movement, and control and supervision. There is a need for planning in education in schools, to obtain success in achieving an educational goal. The need to develop a strategy, in an effort to achieve the goals that have been set. Management is conceptualized as a social process designed for the participation, cooperation, and involvement of people in order to achieve the expected goals effectively. Management is a core activity that must be carried out by every educational institution, namely schools. Nurmawati and Syafaruddin said that good management is one of the most important variables in realizing quality schools. Therefore, the management of a school (educational institution) should not run statically, but must run in a dynamic way according to the times. In fact, Andang said that educational institutions (schools) that have good management in their implementation will be able to become schools that develop and progress. This is because all activities are managed neatly and regularly.
References
Abd Mukti, S. S. (2021). Manajemen Kegiatan Peserta Didik dalam Peningkatan Kualitas Lulusan di SMP Islam Al-Ulum Terpadu Medan. Edukasi Islami: Jurnal Pendidikan Islam, 10(001), 125.
Arif. (2021). Manajemen Pendidikan. Medan: Garuda.
Aripin. (2019). Media Pembelajaran. Jakarta: UMSU Press.
Daradjat, Z. (2008). Metodik Khusus Pengajaran Agama Islam. Jakarta: Bumi Aksara.
Miles, M. B., & Huberman, M. (1992). Analisis Data Kualitatif. Jakarta: UI Press.
Pribadi, B. A. (2017). Media dan Teknologi dalam Pembelajaran. Jakarta: Kencna.
Rifa'i, M., & Fadhli, M. (2013). Manajemen Organisasi. Medan: Cipta Pustaka Media Perintis.
Sadirman. (1992). Interaksi dan Motivasi Belajar Mengajar. Jakarta: Rajawali.
Sanjaya, W. (2009). Strategi Pembelajaran Berorientasi Standar Proses Pendidikan. Jakarta: Kencana Prenada Media Group.
Setiawan, H. R. (2018). Media Pembelajaran (Teori dan Praktek). Yogyakarta: Bildung.
Setiawan, H. R. (2019). Media Pembelajaran. Medan: Bildung.
Setiawan, H. R. (2021). MANAGEMENT OF NEW STUDENT ADMISSIONS IN IMPROVING THE QUALITY OF GRADUATES AT SMP ISLAM AL-ULUM TERPADU MEDAN. Proceeding International Seminar of Islamic Studies (p. 843). Medan: UMSU Press.
Setiawan, H. R. (2021). Manajemen Kegiatan Evaluasi Pembelajaran. Seminar Nasional Teknologi Edukasi Sosial dan Humaniora (p. 507). Medan: UMSU Press.
Setiawan, H. R. (2021). Manajemen Peserta Didik (Upaya Peningkatan Kualitas Lulusan). Medan : UMSU Press.
Setiawan, H. R. (2021). Menjadi Pendidik Profesional. Medan: UMSU Press.
Setiawan, H. R. (2021). IMPLEMENTATION OF TAHFIZ QURAN PROGRAM AT SMP RAHMAT ISLAMIYAH MEDAN. International Conference on Multidisciplinary Sciences for Humanity in The Era of Society 5.0, (p. 106).
Wijaya, C., & Rifa'i, M. (2018). Dasar-Dasar Manajemen. Medan: Perdana Publishing.
DOI:
https://doi.org/10.56114/edu.v1i2.268
Refbacks
There are currently no refbacks.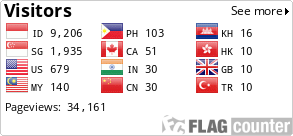 ISSN 2828-108X (Online)