Impact Of The Development Of The Internet On Students' Learning Achievement (Case Study At SMA Muhammadiyah Sawangan)
Abstract
The author's purpose in this research is to determine the influence of the internet, the benefits and impacts of using the internet on student achievement and to find out the problems, bad effects of the internet and find solutions to the bad effects caused by the internet for students. The research approach used in this study is a qualitative approach, namely a research approach that presents data in the form of a narrative/description. The type of research we use is descriptive research. Descriptive research aims at solving problems that exist today because there are so many kinds of research that tell, analyze, and apply research with survey results, questionnaires, observations, or with text techniques, case studies, studies. time and motion, qualitative analysis, cooperative studies, or cooperative studies, or operational studies. The results of the research are the internet is very helpful in learning activities, because wherever someone can be free to find learning information.
References
Afrizal. (2014). Metode PenelitianKualitatif. Jakarta: Raja GrafindoPersada.
Deni, Darmawan. (2015). Teknologi Pembelajaran. Bandung: Remaja Rosdakarya.
Gunawan, A. A. R. (2019). Media Pembelajaran Berbasis Industri 4.0 (1st ed.). Rajawali Pers.
Moleong, L. J. (2002). Metodologi Penelitian Kualitatif (Remaja Ros).
Mulyasa, E. (2002). Manajemen Berbasis Sekolah. PT. Remaja Rosdakarya.
Muthuprasad, T., Aiswarya, S., Aditya, K. S., & Jha, G. K. (2021). Students' perception and preference for online education in India during COVID -19 pandemic. Social Sciences & Humanities Open, 3(1), 100101. https://doi.org/10.1016/j.ssaho.2020.100101
Prayitno. (2021). Multimedia Komunikasi. Jakarta: Elekmedia Komputindo.
Riska, H., & Nurmanina, A. (2013). Studi Tentang Penggunaan Internet Oleh Pelajar. EJurnal Sosiatri-Sosiologi. 2013, 1 (4).
Setiawan, H. R. (2021). Manajemen Peserta Didik: (Upaya Peningkatan Kualitas Lulusan). UMSU Press.
Setiawan, H. R., & Abrianto, D. (2019). Metodologi Penelitian Kualitatif. Bildung.
Setiawan, H. R., & Masitah, W. (2017). Meningkatkan Motivasi dan Hasil Belajar Mahasiswa Melalui Model Pembelajaran Kooperatif Group Investigation Pada Mata Kuliah Psikologi Pendidikan di Program Studi Pendidikan Agama Islam FAI UMSU 2016-2017. Intiqad: Jurnal Agama Dan Pendidikan Islam, 9(1), 47.
Setiawan, H. R., & Masitah, W. (2018). Pembuatan Media Pembelajaran Melalui Seni Decaupage Pada Guru Raudhatul Athfal Kecamatan Medan Area. Jurnal Prodikmas: Hasil Pengabdian Masyarakat, 2(2), 118–126.
Setiawan, H. R., & Mayurida. (2022). Utilization Of Google Class Room In Islamic Religious Education Subjects At Smp Rahmat Islamiyah Medan. International Journal Reglement & Society (IJRS), 3(2), 146–153.
Setiawan, H. R., & Ritonga, M. (2022). The Effectiveness of Online Learning System in Arabic Subject at Al-Ulum Islamic Junior High School Integrated of Medan. Arabiyatuna: Jurnal Bahasa Arab, 6(1), 48.
Sholikah dan shaifuin. (2013). Media Komunikasi. Yogyakarta: Andi Offset.
Yusuf, A. Muri. (2013). Penelitian Kuantitatif, kualitatif dan Penelitian Gabungan. Padang: UNP Prees.
DOI:
https://doi.org/10.56114/edu.v1i3.415
Refbacks
There are currently no refbacks.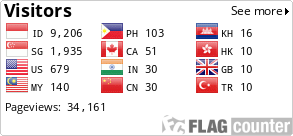 ISSN 2828-108X (Online)