Analisis Metode Pembelajaran Sejarah Kebudayaan Islam Di MTs Darul Huda Marelan
Abstract
This study aims to describe the Islamic Cultural History (SKI) learning method at MTs Darul Huda Marelan. The focus of this research is to: discuss the methods used by Islamic Cultural History teachers at MTs Darul Huda Marelan, whether the learning methods used are appropriate when the learning process takes place. This research uses a qualitative approach with a descriptive type. The collection of data used in this study is in the form of observation, interviews and documentation. In seeking the validity of the data, researchers triangulate sources, observations and method triangulation, and researchers also extend attendance. The subjects used were the Darul Huda Marelan Madrasah Principal, deputy Madrasah Principal, Islamic Cultural History Teacher, and class IX students. Based on the results of observations made by researchers at MTs Darul Huda Marelan school with one of the Islamic Cultural History (SKI) subject teachers, information was obtained that the learning methods used in learning were lecture, question and answer, and discussion methods. So that in such a learning method it still seems monotonous and boring for students. The solution given by the Islamic Cultural History teacher is that usually the cultural history teacher, before starting class learning, has first prepared the materials to be studied by photocopying or printing the material to be studied.
References
Fabiana Meijon Fadul. (2019). Isu E-Budaya Dalam Evaluasi Program Pendidikan Sekolah Dasar. 8–28.
Farid Wajdi. (2008). Tahfiz al-Qur'an dalam Kajian 'Ulum al-Qur'an (Studi atas Berbagai Metode Tahfiz). 185.
Khasanah, K. N. (2018). Program Studi Pendidikan Agama Islam Fakultas Agama Islam. Kementrian Agama UIN Jakarta FITK, 1, 1.
Harfiani, R., & Setiawan, H. R. (2019). Model Penilaian Pembelajaran Di Paud Inklusif. Ihya Al-Arabiyah: Jurnal Pendidikan Bahasa Dan Sastra Arab, 5(2), 236.
Setiawan, H. R. (2022). STRATEGI PEMBELAJARAN LANGSUNG (Upaya Peningkatan Motivasi & Hasil Belajar Siswa). UMSU Press.
Setiawan, H. R. (2020). The Pattern of Leadership of Women School Principals at the Al-Ulum Integrated Islamic Elementary School in Medan. Proceeding International Seminar of Islamic Studies, 1055–1062.
Setiawan, H. R. (2021). IMPLEMENTATION OF TAHFIZ QURAN PROGRAM AT SMP RAHMAT ISLAMIYAH MEDAN. International Conference on Multidisciplinary Sciences for Humanity in The Era of Society 5.0, 106.
Suparyanto dan Rosad (2015. (2020). Pemberdayaan Yayasan Islamic Centre Dalam Meningkatkan Mutu Tahfiz Al- Qur'an Di Kalangan Siswa Islamic Centre Kota Medan. Suparyanto Dan Rosad (2015, 5(3), 248–253.
Zikra, A. (2018). Strategi Menghafal Al-Quran Dalam Meningkatkan Prestasi Tahfizh Di Pondok Pesantren Sunanul Husna I Ciputat. 14311318.
Zen Munawar, D. (2021). Pemanfaatan Teknologi Digital Di Masa Pandemi Covid-19. Jurnal Teknologi Informasi Komunikasi, 8(2), 160–175.
DOI:
https://doi.org/10.56114/edu.v2i2.9307
Refbacks
There are currently no refbacks.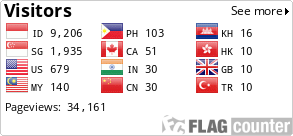 ISSN 2828-108X (Online)